Daughters of Zion Music Album
Tear Stains on the Altar
The Tear Stains on the Altar Album by the Daughters Of Zion was produced for Buildings for Babies as a free ministry tool or gift to those who make a donation of any size. To order this CD, click on the Donation button and enter a minimum amount of $2.95 (for S&H) and we'll send it to you ASAP. If you would like to make an additional donation, simply enter the amount you would like to contribute.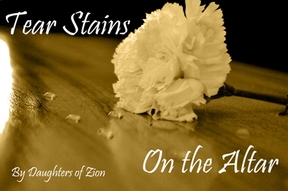 Track 1) Tear Stains on the Altar

Track 2) I Feel the Pull

Track 3) What Sin?

Track 4) He Knows my Name

Track 5) Prodigal/Welcome Home

Track 6) Amazing grace

Track 7) Mercy Said No

Track 8) Be Thou My Vision

Track 9) Walk on the Water

Track 10) God Himself


Suggested Donation: $19.99

---
| Just $2.95 S&H | Optional Donation of any amount |
| --- | --- |